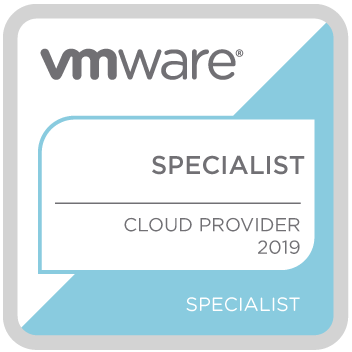 After many months of procrastinating I finally decided to sit the VMware Cloud Provider Specialist Exam (5V0-32.19). The exam was released at the end of August 2018, so it's been available for quite a few months now. This comes after a long wait from the vCloud community asking for a specialist / dedicated exam around vCloud Director and its product suite.
The first thing to note with this exam is that it's not a certification but rather falls under a new collection of exams from VMware that are better represented by Skills and Achievements and are acknowledged through VMware / Acclaim Badges (as shown by the one above).
The exam is non-proctored web based. Meaning, like me, you can take the exam first thing in the morning before starting work. This is a format first released by VMware with their VMware Certified Associate exams a number of years back. The exam is 40 questions sat over 60 minutes with the standard 300 passing score. The exam is predominately focused on vCloud Director but also cover numerous other products in the vCloud Suite of products and the Cloud Provider program
It's a relativity solid exam, I feel sitting in between an Associate and Professional certification in terms of difficulty. Having used vCloud Director and its various suite of tools for quite a few years now. I took this exam cold with no additional study. I managed to answer the 40 questions in a little over 30 minutes and then spent 10 minutes reviewing about a dozen questions I was a little uncertain on. Generally speaking, with these kind of exams, you either know or don't know the answer. So trust you gut instinct and put your answer as the first thing that comes to your mind. Then flag it for review if you are truly uncertain.
So what should you do if you want to take and pass this exam? It's a little tricky for me to definitively recommend study material as I relied on my previously gained knowledge of the vCloud Director and it's various product line. I would certainly say this is an exam for someone that administers and engineers vCloud Director solutions. That's generally going to be someone in the Service Provider space. If you don't use vCloud Director I would question the real benefit you would gain from this exam, with the exception of forcing you to study up on the various products that go into this exam. If you're still set on this exam and don't have access to vCD you're best bet would be Hands on Labs HOL-1983-01-HBD -- VMware Cloud Provider Program -- vCloud Director for Service Providers.
There is no formal Blueprint that I'm aware of but there is an Exam Preparation Guide PDF for the exam on the VMware Certification site. It has quite a lot of Sections and Objectives to work through and a huge amount of reference material. This could be quite a challenge for someone new to vCloud Director to work through.
Generally speaking though you will need to know vCloud Director. It's the core focus of this exam. The exam is also based on vCD 9.1. This is extremely important to know. For example things like supported databases have changed in recently releases of vCD leading you to in incorrect assumption for the answer. While it's unlikely you'll be asked to specifically do something around point and clicks. You will more likely need to understand all the different terminologies and constructs used in vCD and how they relate back into vSphere.
You should understand the concepts and components behind vCloud Extender. What it is, what it does, and how you might use it. The same goes for vCloud Usage Meter and it's newer SaaS offering Usage Insight. While I don't recall but you may see some questions around vCloud Availability too.
You'll also probably see a few questions around a new product, Cloud Provider Pod and Cloud Provider Hub. Very few people would have hands on experience with this new product. It's basically an Orchestration platform to stand up an entire vCloud Director stack from bare metal. I'd recommend watching the VMworld presentation Introducing VMware Cloud Provider Pod presented by Wade Holmes which should give you all the high level information you need on it.
Final Thoughts:
As mentioned above, this is a solid exam. It covers quite a lot of different products in VMware's Cloud Program Program / vCloud suite. It's ideally suited to Service Providers using vCD. vCloud Director is a very intricate product with many external dependencies. The exam is a great way to validate and acknowledge those skills you have acquired with vCD and associated products.