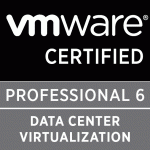 Ok, so I say this every time but this time I mean it… well, at least I think I do.  This is my last VCP exam.  I took the VCP 5.5 Delta a few years back now.  Before that were a few VCP 5s.  There might have even been a VCP 4 thrown in there somewhere.  I've taken this exam more times than I want to think about.
Last week I took the VCP6-DCV Delta.  I could have held off a few more months before my VCP 5 expired but i had some spare capacity to study so I committed to retake the exam.  Work was kind enough to give me two dedicated study days to prepare.  I used them as well as I could have.  I had also hoped to get in some solid study in the weeks leading up to the exam but unforeseen personal issues got in the way which wrote that off.  So I really wasn't feeling confident going into this exam.  To my surprise, though, I actually passed with a decent mark.
The VCP is a real solid exam for its type, it always has been.  Personally I think one of the harder ones out there too.  Of course exams like the VCAP are on a different level but as for the standard multiple choice exam it's right up there.  VCP exams really require that you have solid experience with the technology, especially the VCP-DCV focusing on vCenter, along with vSphere Replication, a little vCloud Air thrown in, vSAN features, and the new PSC.  it has really become quite broad.
The Delta I took was comprised of 65 questions over 75 minutes, 20 questions less then the full VCP exam thankfully.  As a guide I usually work out how many questions 70% is and treat that as what's required to pass.  It's usually treated me well as a format for passing.  So when I scribbled down 15 questions I was uncertain with at the end of the exam I felt it could have gone either way.  I was quite worried.  So seeing that I passed in the high 400's out of a possible 500 was quite pleasing.
I think the community has finally gotten over and accepted this 2 year expiration with VMware certifications.  I've never really had an issue with it.  I've known this is where the industry has been heading with certifications for a while now.  It doesn't mean it's not frustrating though.  Which is why I'm hoping I won't have to do another one again.  Now it's not to say that I won't do another VMware cert.  I just have to be a little smarter and play the game a little better by upgrading to the new VCIX cert.
In any case, it's done, it's out the way.  I get to use the new little logo.  And, well, that's about it 😛