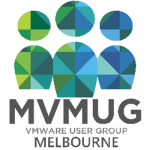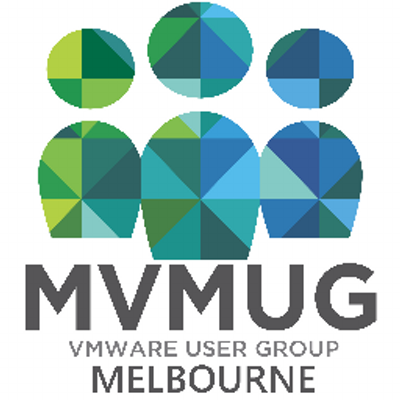 So before I head back to work tomorrow to wrap up my year.  I thought it would be a good opportunity to reflect back on the year that was with the Melbourne VMware User Group.  It was a big year for me with the Melbourne VMUG.  After years of just turning up to events I finally became a member of the committee team.  It's been an awesome experience where I've met some great friends I might not have otherwise meet.
Melbourne VMUG kicked off its year, as with previous years, with its annual User Con in February.  For the first time in five years we had a venue change to the Crown Promenade.  It was a risky move but paid off. Hey, if VMworld can get away with having it in a casino so should we.  Support from the community on the venue change was overwhelmingly positive.  With ~350 attendees it was one of our biggest User Cons to date.  We had some great international guests with Chris Wahl and Keith Townsend.  The day rapped up with an after-drinks / vBeers party a short walk along the Yarra River across at the The Boatbuilders Yard.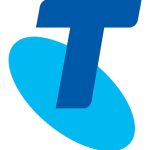 We continued the year with three more quarterly meetings.  Each of them held at the Telstra Convention Centre and venue sponsored by Telstra themselves.  Having Telstra provide the venue facilities has been an absolute coup for VMUG.  The facilities are located in the heart of Melbourne CBD with easy access in and out for our community members.
The facilities provide us with two meeting rooms allowing us to run two side by side tracks during the quarterlys.  This has been another one of those surprisingly successful moves.  By running two tracks we have been able to provide more content to our community then we normally would otherwise.  At the end of each of the quarterlys we held vBeers paid for by the meeting's sponsors at Trokia Bar, a small bar just across the road from the venue.
In between the User Con and the Quarterly meetings with also held separate vBeers events.  These were all held at Beer Deluxe at Federation Square in Melbourne CBD.  Unlike the Quarterly meeting vBeers these ones aren't usually sponsored.  The settings for these vBeers have always been to provide a smaller more intimate environment to network with peers.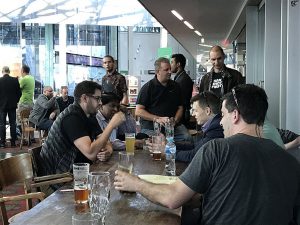 By using left over sponsor funds from the year Melbourne VMUG was able to sponsor the final vBeers of the year at Beer Deluxe.  This turned out to be one of the bigger vBeers MVMUG has held for some time.  It was also well supported by VMware with a number of their local SEs coming out to show support.  We even managed to get a few Sydneysiders to come out and show them how it's done in Melbourne.
The Melbourne VMUG committee also got out and help sponsor VMUG at the Synology 2017 Conference at the Melbourne Convention Centre a few months back.  This was an invite request from Synology.  We pulled out the banners, and spruiked VMUG with flyers, pens, and t-shirts.  A great experience promoting our user group to a slightly different demographic of small business and storage enthusiasts.
We, the Melbourne VMUG committee, now switch to 2017 User Con planning with VMUG HQ.  We've already had a few meetings in and things are looking really good so far.   The same venue has been book at the Crown Promenade for the 23rd of March.  We've secured two keynote guests, which i think I can now safely say will be Duncan Epping and Amy Lewis, and we're working towards a few more international guest to make this our best User Con to date.
Finally a big shout out to Melbourne VMUG committee this year.  The leaders Craig Waters, Andrew Dauncey, and Tyson Then, these guys have been the rock for MVUG throughout 2016.  They have also been great to lean on throughout the year for me.  Also not forgetting Justin Warren, Damien Calvert, and fellow 2016 committee newcomer Brett Johnson.  Not to mention VMware liaisons Ramon Valery, who has now moved over to Nimble storage, and his replacements Mo Jamal and Kev Gorman.  It's been a massive year and look forward to working with you all next year.
Hope you all have a great New Year and look forward to seeing you at our User Con in 2017!