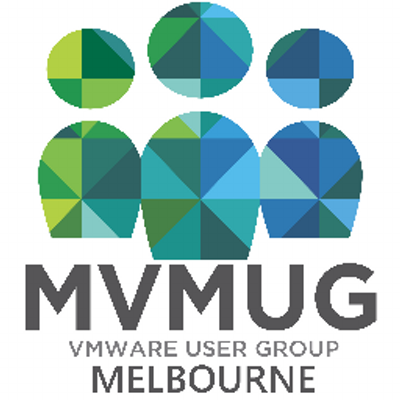 This year was a very special UserCon for myself.  This was my fifth out of six UserCons I've attended in Melbourne.  But it was special because it was my first as Melbourne VMUG Leader.  Co-Leader actually along with good friend Tyson Then who was also taking part, for the first time, as Leader.
It's also the year that Melbourne VMUG founder, Craig Waters, has graciously decided to step down as leader and pass the baton onto, as he referred to on stage, 'Fresh Meat'.  Standing next to Craig on the stage was Andrew Dauncey.  Andrew, having recently accepted a role with VMware, also used the opportunity to officially step aside as co-leader as well.  Both Craig and Andrew have been integral parts of the Melbourne VMUG team.  While they are both stepping aside as Leaders they have each pledged their continual support to the User Group and will continue to be involved in the steering committee.  While I can't speak for Tyson, I think I can safely say we are both honoured to humbled to be filling their shoes and have the support of two, now former, great leaders of the group.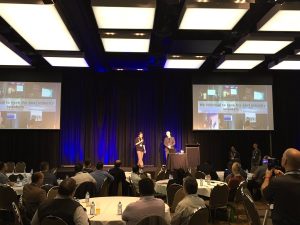 Getting back on track though.  Last week Melbourne held its sixth annual UserCon.  For the second year running we held the event at Melbourne's Crown Promenade.  A great venue located in Soutbank in the heart of Melbourne.  The line up of speakers this year was nothing short of spectacular!  Following the VMUG Committee welcome from myself and Tyson, Duncan Epping opened as first Keynote speaker of the day.  Duncan gave a great session on his baby vSAN.  Right after Duncan followed Amy Lewis continuing the opening Keynote with a panel discussion.  The Panel was comprised of three VMUG committee members, Tyson Then, Craig Waters, and Justin Warren, along with Amy Lewis who chaired.  The Panel session was focused around career and building your brand and image.  Basically what Amy does best!
Throughout the day we had the regular goodness you come to expect from a UserCon, which included sessions from VMware and our Sponsors.  One of those sessions even included Emad Younis, Sr Tech Marketing Engineer from the VMware vCenter Team.  Where us Aussies like to differentiate and do things a little different at UserCons is support the community as much as possible.  We ran five community sessions throughout the day.  We had a huge submission response from the community to take part which made it difficult picking only five.  But as we have in the past, we the committee, picked based solely on most appealing Session Title and Abstract and not on the name of the speaker (which was obscured).  The final cut ended up being two internationals, Josh Atwell and Rebecca Fitzhugh, along with locals Grand Orchard, Claire O'Dwyer, and Arron Stebbing.
Alastair Cooke over in New Zealand was invited, and happily accepted, to once again represent the vBrownBag community along with Brett Johnson.  All community submissions that missed the cut where offered a short TechTalk session which ran throughout the day.  vBrownBag is an awesome community run by volunteers focused around education and learning through podcasts and TechTalk sessions.
The day end with two final sessions.  A Celebrity SuperStar Panel session chaired by fellow VMware local Greg Mulholland and panelled by Duncan Epping, Amy Lewis, Emad Younis, Alan Renouf, and William Lam.   The final closing Keynote of the day were by the awesome duo Alan Renouf and William Lam showing us some of their recent work on creating an SDDC lab with nothing more than a few scripts and a USB stick.  This was the standout session in my eyes and clearly many other attendees as seen by the vast majority who chose to stay for this last session of the day.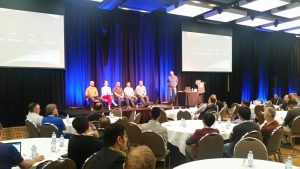 Towards the end of Alan and William's session, drinks and food were brought out to the attendees.  Duncan even personally came on stage to served Alan and William some local beer while we waited for their SDDC to build (no pressure guys).

While I might be biased, as VMUG Leader, this was by far the best UserCon I have ever been part of.  We say it a lot but our community really is awesome.  I met attendees from all over Australia and even from New Zealand who came to be part of this event.  Everyone I spoke to was just amazingly supportive and I thank you all.  It makes all this hard work worthwhile.  To all our sponsors, particularly our Platinum sponsors Veeam and Zerto, a big thank you because without you we could never put on an event like this.  I'd also like to thank the Sydney VMUG team for their hard work during the coordination of our two UserCons.  Lastly I can't end this post without a HUGE thank you to all the international guests who made the long trek from across the sea to be with us.
I look forward to seeing all of you, especially those I didn't get an opportunity to meet on the day, at our future #vBeers and Quarterly meeting events and of course our next UserCon.