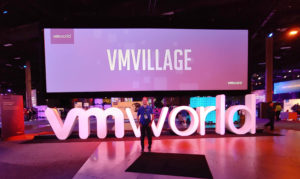 I think the worst part of VMworld has to be the end of VMworld.  There's nothing like the reality check of a 14 hour flight back home to Melbourne.  As I sit here looking out the window at a cold and dreary Melbourne winter's day it's a great opportunity to reflect on another great VMworld.
As with last year I turned VMworld into another working holiday.  If I'm going to sit on a plane for 14 hours I'm sure as hell going to experience as much of the US as I can.  Last year involved a road trip post VMworld driving from Chicago to Toronto lugging all my VMworld swag around with me (very inconvenient let me say).  This year I moved the holiday portion of my trip to the start and drove from New Orleans through Louisiana and around Texas, hitting the major cities along the way to Dallas before flying into Vegas for VMworld.  I absolutely love the States and will take any opportunity to experience new parts of the country.
Love or hate Las Vegas, it's an amazing place to hold VMworld.  I jokingly titled this post 'Run, Don't Walk'.  You see there's just so much to experience at VMworld you won't be able to absorb it all in over the 4 to 5 days of the event.  Whether you're running between sessions.  Visiting vendor booths.  Or hunting down friends.  You'll inevitably find there's not enough time.  We love to try to categorise the different types of people who attend VMworld and how they spend their time but I don't think that's fair.  Every single person has a different objective.  Ultimately for me, from my point of view, just have fun.  Enjoy the event!  Try to walk away from the event happy and in a positive state of mind.  If you can do that everything else will just fall into place.
For me there was a lot of high points of the event.  The vExpert party at the Pinball Museum.  The Veeam party at Omnia Nightclub.  The VMUG Leader Lunch Q and A with Pat Gelsinger and Ray O'Farrell.  The list kind of goes on…  but the biggest highlight has to be the VMware Code Hackathon.
I entered team vMafia into the Hackathon supported by a number of fellow aussies, Tim Carman, Anthony Spiteri, and Matt Allford.  I have another blog post coming specifically on this event.  But to summarise, the Hackathon ran in lead up to the night's event over a 3 week period.  The idea I had was to create a PowerShell / PowerCLI console built into the new HTML5 vSphere Client.  To my absolute surprise… we won!  Stay on the lookout for my next post on the Hackathon.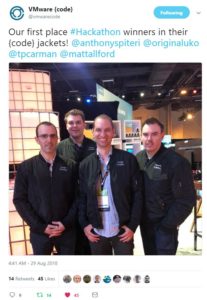 It doesn't end there.  All the people that you run into and friends you make you will lose track of.  The amount of random Texans I met at VMworld after my road trip through Texas was crazy.  Those guys and gals are everywhere.  An awesome bunch of people from an awesome place.  Not to mention the huge Aussie contingent I met throughout the event.
I finally can't end without thanking all the vendors who specifically went out of their way to support the vExpert program with some special swag, Cohesity, Datrium, Western Digital, and Uila.  Not to mention Mr vExpert himself Corey Romero.
Thanks VMware for another awesome VMworld!