Well after a long wait it's that time of year again when the first half of year announcements are made for vExperts. A big congratulations to all the new and returning vExperts this year, in particularly all my fellow Australian vExperts. And yeah why not, a congratulations to even those just across the pond over in New Zealand. It's just another state of Australia right 😛
This is my fifth year as a vExpert and as of late last year my first as a vExpert Pro. It's this new sub program that I'm most proud and honoured to be part of. But more on this program later.
This year we have 1739 vExperts being honoured from 74 countries. That's approximately 250 more than the same time last year and on par with vExpert numbers after the second half intake of 2018.
The United States are most represented with 639, followed by United Kingdom at 157. My home country, Australia, ninth most represented with 45 this year. 18 of those countries are represented by only 1 vExpert.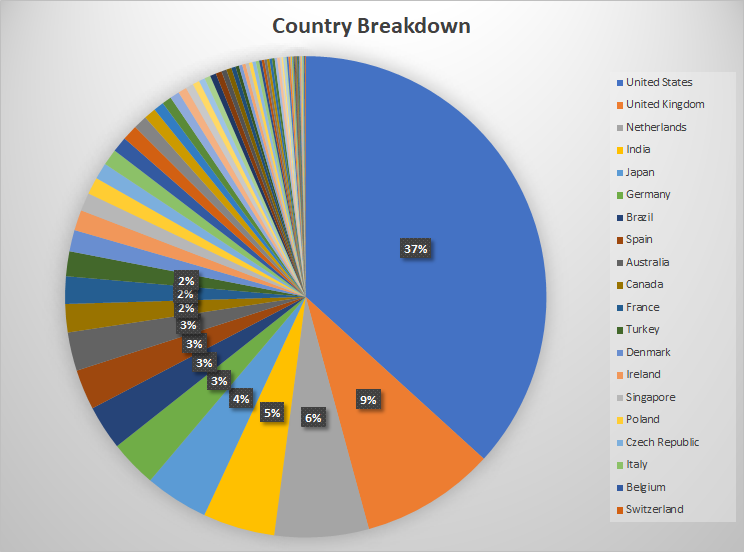 The recently updated public vExpert directory can be found at https://vexpert.vmware.com/directory/ . It contains all of this years vExperts with their public profile.
Coming back to the vExpert Pro sub program. I first heard about this program being created from Valdecir Carvalho (@homelaber) at VMworld Vegas in 2018. I thought it was a really great idea when Val described it to me. I won't go into too much detail on this sub program as there's a number of blogs that cover it very well. Basically though, one of its goals is to create vExperts that can champion the vExpert program in specific countries and regions around the world. In English speaking countries that might be a little hard to understand but in countries that don't speak English, which it might be surprising to know, covers most of the world. As a result of the language barrier it can be hard to recruit and communicate to vExperts in non English speaking countries. That's where bilingual vExpert Pros can help translate any vExpert communication back into their native language to fellow vExperts and potential candidates.
Coming a little closer to home I had a few potential first time vExperts in Australia approach and ask to sit down with me and help them work through the vExpert application process. Something that I felt quite humbled to help out with. I also had a number of people ask if I could be used as a reference if further information was required of them. Again, something I was more than happy to help with. If I can take a little of my personal time to help someone join this great program it's well worth it.
A little bit of insight into how the voting and approval process worked this year. With a huge amount of applicants now applying for vExpert you can understand what a mammoth job it is to go through and screen each person for vExpert recognition and award. This is where the vExpert Pros were able to help out in a voting process. We had the opportunity to go through and help the core VMware vExpert team curate and vote for vExpert approval. I can comfortable say we all took this process very serious. Of course we were just voting and providing feedback with ultimate say and oversight coming from people like
Valdecir Carvalho and Corey Romero in making final decision. I feel the process worked quite well and should lead to a higher level of standard for vExpert approval but also future applications.
In conclusion, with the increased scrutiny and review of applicants. Everyone that made vExpert for 2019 should be extremely proud of themselves. We're part of a great community and we have a high standard to live up to. The days of providing vague and misleading information on your applications are going away.
Again, congratulations to all the 2019 vExperts! Well Done and keep up the good work.